That's what I've been hearing from so many people ever since September, when the curtain fell on
MGEITF 2011.
With all the excitements
of
my first Festival a recent happy memory, the assumption among a lot of people I talk to is that we at Festival Towers have been sitting back and settling for a nice quiet winter, watching a bit of telly perhaps, but not really doing very muc
h…
Well of course we were all pleased to have the heat turned down a little, as the editorial and logistical challenges of managing
56 sessions and 151 speakers
, as well as awards, parties, dinners and a village fete began to fade from our lives. But the truth is, we've all been extremely busy preparing the foundations for our 2012 event!
Kenton and I are locked in an endless (and enjoyable) conversation about issues, master classes, keynotes, MacTaggart lecture rumours, the opening session, the closing session, the in between sessions etc. With our
41 strong advisory committee
we are cooking up some really cool ideas, and already talking to the talent that can make them happen.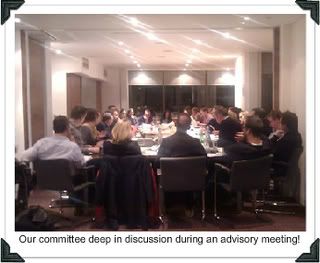 Ellie Caddell
and I are continuing our conversations with existing and future sponsors and funders, about how we can introduce more exciting and informative elements to the Festival, as well as more fun stuff for festival delegates to interact with between sessions (and more of those tasty smoothies please YouTube!).
And you'll notice a few changes to our
website
this week.
Francesca and Amy
have been bossing us all to create new content for every single page of the site, plus a few more. We hope the new site will be more informative, easier to navigate and feature better functionality to the previous version. Plus my new blog of course. We'd love your
feedback
so do please let us know.
And I'm actually writing this on the train coming back from Manchester, having attended our first regional advisory committee, that kicks off in Manchester for 2012, chaired by Sumi Connock. The plan is for it to take place in a different region each year, to reflect the increasing spread of production into the regions, and give voice to the thousands of TV folk working outside of London when planning the sessions. I hope you'll see a positive impact on the Festival when it launches.
With new and exciting plans for our social networks (look out for special offers and benefits available exclusively through
LinkedIn, Facebook and Twitter
), and some yet to be announced London events in the offing, it's fair to say we've been busy bees all through the winter, and we've plenty of announcements to make over the coming months!
Just don't ask me what I actually do once the Festival is over… ;-)
Louise Benson,
Festival Director